IMPORTANT NOTE 1 – Your online booking email address MUST match the email address in our member system. You will not see member tee times if the email addresses do not match up.
IMPORTANT NOTE 2 – You may need to create a new account if your email address does not match the one in our system.
IMPORTANT NOTE 3 – You MUST be logged into the booking engine to see online tee times.
All members, irrespective of their membership type, can book their tee times using one single online platform. You can access the new booking system by view "Member Tee Times" at LittleMountaincc.com or by clicking here to access the new booking engine directly.
Whether you're logging in with your current account or creating a new one, please make sure to use your member email address. Once logged in, you'll have immediate access to view and select from available online tee times.

This enhancement is part of our commitment to continuously improve your experience and ensure it is as convenient and enjoyable as possible. Of course, should you have any questions or need any assistance, our team at Little Mountain Country Club is always available to help.

Having trouble creating a new account? Try creating on a desktop computer instead of mobile.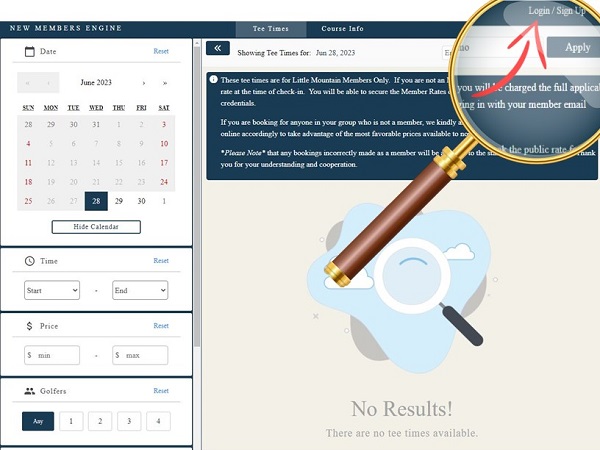 At Little Mountain Country Club, we strive to provide every guest with the best possible rates. If you're not a member, we kindly ask that you make your reservations online to take advantage of the most favorable prices available to non-members. Please note that any bookings incorrectly made as a member will be adjusted to the standard rate upon check-in. Thank you for your understanding and cooperation.